What is a COSHH Risk Assessment?
A COSHH Risk Assessment is a process to investigate who may be harmed by substances hazardous to health and, how that may occur in the workplace.  The purpose of a COSHH Risk Assessment is to outline the findings in a short document. It needs to show what the main hazards and risks are, and how to deal with them to reduce risk for workers and others around.  A COSHH Risk Assessment shouldn't include non-COSHH related hazards.
What should I do?
The first task is to make a list of all substances present on site, and at any off site locations.
Secondly, think about processes that happen at your site. Are there processes that generate their own substances, as these may also need to be included. For example, wood dust from cutting items containing wood. Welding produces metal fumes, ozone and toxic gases. Heating items may cause various toxic or irritant fumes and vapours. These are all hazardous substances.
Identify the hazards
Find out which substances are harmful by looking at the labels on the containers. Read the safety data sheets (SDS)
Contact the supplier of the substance if you need further information.
Think about how harmful substances are created at your workplace that may expose your staff. Examples include cutting, grinding, polishing, heating, mixing.
Involve your employees, they are the ones who are using the substances.
Consider substances that are used in your workplace in all areas; including maintenance activities.
Decide who might be harmed and how
Workers may be exposed to substances in various ways. How might workers be exposed? Substances can enter the body through several routes (breathed in; get in through the skin or affect the skin directly; eaten (ingestion)). Consider what the effects would be from exposure by these routes.
Think how often people work with the substance and for how long.
Think about who this may affect.
Include those who may not be directly working with the substances.
Make sure that maintenance workers, contractors and other visitors or the public are included in the assessment.
Think about unusual or occasional cleaning tasks, spillage potential, or where people could be exposed by accident.
Evaluate the risks and decide on precautions
Following the COSHH Risk Assessment that identifies the substances and how workers can be harmed, you then need to decide how to prevent exposure.
Do you really need to use a particular substance? Can you find a safer alternative?
Look into process changes to eliminate its use. Or can you avoid producing it?
If you cannot avoid its use or presence, by law you must set into place adequate control measures to reduce exposure.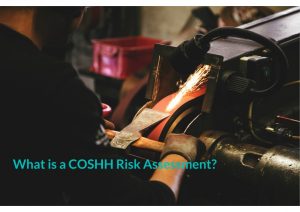 Examples of ways to control worker exposure
Process changes – for example, use pellets instead of powders in a filling process as they are less dusty.
Containment – enclose the process or activity with the aim of minimising release of harmful substances. Minimise handling of materials and consider closed transfer processes.

Local Exhaust Ventilation (LEV)

– capture at source and extract the emissions away from workers. Make sure it is regularly inspected and tested as per the COSHH regulations.
Systems of work – only allow those into the area who need to work there. Organise the work area and use proper containers with the correct labels and hazard warning signs on them. Store incompatible materials separately. Ensure that waste is stored and disposed of properly.
Cleaning – plan and organise work areas to ensure easy and effective cleaning takes place, this will minimise the chance of exposure at that time. When designing workplaces, install smooth work surfaces as it makes them easier to clean. Provide the right equipment and have procedures to ensure spillages are cleared up quickly and safely. Regular cleaning in a way that removes dust, not moves it round – vacuum, minimising sweeping.
It is always a good thing to write down your assessment, even if you have only few employees.  You should record the steps you have taken to identify the risks.  List the action you have taken to control the health risks – don't leave out this important step.
Review the risk assessment regularly ensures that it is kept up to date. It also takes into account any changes in your workplace.
Good Control Practice – The 8 Principles
A good employer should follow the 8 principles of good practice as outlined in Schedule 2 of the COSHH regulations. These are as follows but in no particular order of priority:
Careful design of the process task is required to minimise release, and the spread of hazardous substances.
Consider the likely routes of exposure – "Take into account all relevant routes of exposure – inhalation, skin and ingestion – when developing control measures."
Control exposure by measures that are proportionate to the health risk.
Choose effective control measures – Choose the most effective and reliable control options that minimise the escape and spread of substances hazardous to health
Where adequate control of exposure cannot be achieved by other means, provide, in combination with other control measures, suitable personal protective equipment
Review effectiveness of control measures for their continuing effectiveness
Inform and train all employees on the hazards and risks from the substances with which they work and the use of control measures developed to minimise the risks
Ensure that the introduction of control measures does not increase the overall risk to health and safety.
For more information on the eight principals, visit the HSE's website.
If you need any help with carrying out your COSHH Risk Assessments, we're here to help.
Our approach
Get in touch with Workplace Exposure, either give us a call on 0800 689 4386, or fill in our enquiry form to discuss your monitoring or consultancy requirements.
We'll then provide you with a no obligation proposal, we can often give an initial idea of fees whilst we discuss your needs.
Once you've accepted our proposal we can then schedule the work.
Following our site visit we'll provide you with a comprehensive report giving you advice, recommendations and control measures where appropriate.
Implement the outcomes for compliance and a happier healthier workplace.